Why The Right Leadership Training Program Matters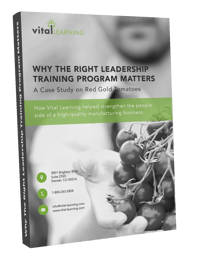 Making sure you're properly developing your employees is critical to the long-term success of any business. Beyond just choosing a leadership training program, it's important to make sure you're choosing the RIGHT leadership training program. Learn how one manufacturing company improved performance, productivity, and communication with Vital Learning's practical management skills solution.
Red Gold Tomatoes had been struggling with growth. While they knew their business and had a great product and a high-tech facility, the "people side of their business" (and their managers) were lagging behind. That's where Vital Learning stepped in.
In this case study, you will learn how Vital Learning:
Identified specific challenges and opportunities for Red Gold
Delivered an in-depth and tailored learning solution to address these challenges
Achieved behavior change with a unique practical "learning by doing" approach
Helped Red Gold improve key metrics over time by developing better managers
Complete the form to read the case study for free!