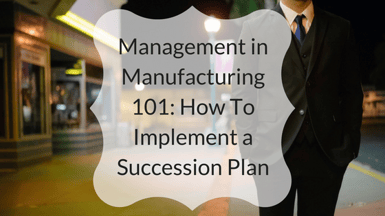 Training employees in the manufacturing industry is expensive and time-consuming. When an employee decides to leave, it's essential to have a succession plan in place to easily transition duties without losing efficiency or revenue. But how do you implement this plan?
Training Managers to Onboard New Employees
Having a sound succession plan is one of the key ways to onboard new employees. However, you need specialized training to create this plan. Learning how to build a succession plan is as important as other aspects of management training. You create an employee pipeline capable of filling essential roles and improving productivity, even when someone moves to another company or retires.
The onboarding process sets the stage for your organization's relationship with new hires. Managers with the right training can provide a quality experience from the beginning. They evaluate the employee's potential for moving up in the manufacturing company and the type of training to best support these goals.
Bonus resource: How to Develop a Succession Planning Process: A Guide for Managers
Dealing With Succession Gaps
Often, managers don't know that they're hitting a succession gap until they're already in it. By then, the company may already feel an impact from a lack of pivotal employees. Many organizations have something in place to handle changes in upper management, but they neglect positions several layers further down. Productivity, profit and growth are at risk in this situation.
Proper training helps you identify these gaps ahead of time, allowing for more seamless integration of new employees. When you spend significant resources in recruiting and training your talent, you need to reduce turnover proactively. However, you always have some personnel leaving for other opportunities, getting fired or entering retirement age.
A succession plan stops these gaps from limiting your organization from its business goals. Leadership and skills development gives your employees the resources they need to move into higher positions, while new hires take their places. The talent pipeline renews itself through this systemic process, compared to an organization that only reacts to sudden departures.
How to Make a Succession Plan
Good succession planning in manufacturing creates a process for handling gaps at multiple levels in your business. Look beyond the CEO and upper management positions, as losing your most talented engineer or IT security manager can result in widespread problems throughout your company. You need to take the approach of developing your workforce rather than replacing a few specific positions.
The first step is identifying the areas that are most disruptive if they suddenly empty. You need full visibility into the job duties these employees handle, especially if they are collaborating with teams or departments outside of their core competency. Performance management solutions can help your organization gather the necessary data.
Managers work closely with their teams to align development with each person's career goals and personal interests. Sometimes you find the most promising talent in departments that may not directly deal with specialized skills. Look beyond the previous experience listed on their resume and learn about their hobbies or side projects. A leader or a highly skilled IT specialist could be hidden in plain sight.
Implement cross-training programs for the internal development of skills that you need to thrive. The recruitment landscape for top talent in engineering and IT is highly competitive, so you don't always have the option of bringing in a new hire to cover the gaps. Employees also feel more motivated by the opportunity to move into important positions and make a real difference in the organization.
You need to allocate appropriate resources to help managers and their teams to achieve success. The additional training required for this succession plan can't be added on top of the employees' current duties without extra time. The manager finds the opportunities in the present schedule for this process. They also work with other departments to improve skills through hands-on training. Workshops, online courses and conferences offer other ways to improve their knowledge in these areas.
Mentorship is another tactic to add to your succession planning. Employees get the advantage of an experienced helping hand working with them as they train in these skills and positions. They learn things that could take an entire career to discover on their own.
Create a procedure to detail exactly what the manager needs to do when a key employee leaves. You don't want to leave anything ambiguous, as transitioning a new person into the role needs to happen as quickly and seamlessly as possible. You often face productivity decreases during the changeover, but you can minimize this with a consistent process.
Your organization's management training needs to cover how to create good succession plans. Turnover is inevitable, but you can implement seamless transitions with the right process in place. Your managers can find suitable candidates for front-line leadership training, as well as people interested in learning critical skills. The investment in employees also creates a higher quality workforce with better engagement. Put this plan in place before you face a damaging employee departure in a role that's essential for your manufacturing company. How much do you stand to lose the next time someone leaves your organization?