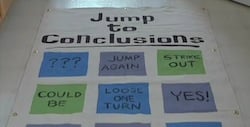 Bingo! You have an exciting new idea that you want to share with your colleague. But as you begin communicating and start to present the idea to them, they interrupt you with the following statement:
"We shouldn't go through with it. We've tried it before and it didn't work."
Your colleague is not purposefully being difficult; rather they are an evaluative listener. They tend to jump to conclusions before hearing the full idea and without giving it much thought.
Read More