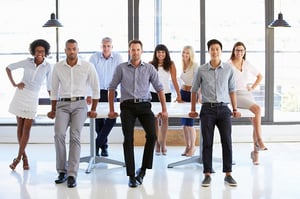 Workplace diversity is a rising trend in our country. According to the Center for American Progress, women account for almost half of today's workforce, and people of color make up nearly a third of American workers.
Gender, age, race, background and many other types of diversities make for a rich company culture. These differences also allow for fresh perspectives and new ideas that benefit your organization as a whole.
But, they also present a number of challenges for your management team. Don't allow these difficulties to impede your company from taking advantage of workplace diversity. Consider these four secrets to managing a diverse workforce more effectively.
1) Level The Playing Field
Whether it's your hiring method, your performance review process or your daily interactions with employees, it's essential to make your company's work environment as objective and fair as possible. In any workforce, all employees should be held to the same standards and expectations.
One specific way to accomplish this is by numerically rating employee performance. Support all performance reviews with explanations for the objective ratings and supply actionable feedback for improvement.
2) Train, Train, Train
Your managers must have the right skill sets to capitalize on employees' differences. The best way to hone the skills needed to lead a diverse workforce is by providing management training courses.
Diversity awareness courses give managers the tools to understand and respect people of other cultures. With the right training, knowledge and insights, your managers promote an environment in which individual differences are evident, valued and respected, imparting an attitude of acceptance to your whole team.
3) Mix Things Up
When planning projects or company outings, group together employees of different ages, races and genders to mix things up. Doing so consistently helps to increase employees' level of comfort and enhance their interaction in the workplace.
If all of your employees have an opportunity to share their experiences, feelings and knowledge in a diverse environment, your company benefits. After all, each person has a unique viewpoint. When empowered to work in diverse groups, your people are more likely to come up with creative, effective approaches to their jobs.
4) Keep Communicating
Communication is a vital aspect of leading a diverse workforce. Make sure that your company's policies and procedures regarding nondiscrimination are communicated to all employees, at multiple touch points: when starting the job, when policies change and as a refresher throughout their career.
If you want to know where you're succeeding in managing a diverse workforce and where you may be falling short, simply ask your people. Send out regular surveys to gauge diversity acceptance in the workplace. Ask employees for creative ideas on how to improve their experience in this area. Your workers are the ones dealing with this issue firsthand, so their knowledge is invaluable.
Interested in learning more about leading a diverse workforce and embracing personal differences? Schedule a Vital Learning Health Check to uncover the areas in which your organization could benefit from management training.