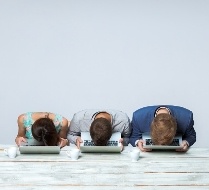 When companies are on the hunt for management training courses for their employees, they tend to consider factors like price and choice of material. Often, they fail to put the appropriate thought into the selection of a delivery method.
The fact is every company is different, so various types of delivery methods are right for various types of workforces. If one of your goals is to improve the effectiveness of your management training program, you must take how your employees learn best into consideration – and that means examining the program's delivery method. Start by identifying possible flaws that exist in how your employees are currently learning.
Is Your Delivery Method Flawed?
When evaluating what's not working for your current training approach, the following issues should be red flags. These common challenges may signify that you need to rethink your delivery method.
Employees don't participate.

There's little interaction or engagement from participants.

Team members seem bored during training.

There's no improvement in team member performance.

You receive negative feedback from participants about the training.
If you identify any of these flaws in relation to your training, it's time to take a new approach to learning.
What Type Of Leadership Training Delivery Is Right For You?
Take a look at the following three delivery methods and consider which type of learning necessitates each one.
Classroom – When you first think of leadership training or you reflect on past courses you've participated in, the thing that comes to mind is probably the model of traditional classroom training. This is when a professional trainer is brought in to deliver course material, engage participants and act out potential scenarios. Employees use workbooks to follow along and answer questions posed by the trainer.
This works for companies that are able to block off time for their employees or want to train teams together. However, it's not always ideal for teams that are spread out with remote workers or office locations in various cities.
Online – Everything these days is web-based – including options for professional training. Online training is one of the biggest evolutions in leadership training over the last few decades. Participants have the flexibility to complete coursework on their own time, in between meetings or while they have downtime. There are even mobile courses for employees on the go.
There are many benefits that come with online training, but one drawback is the lack of interaction from participants. They're not able to role-play workplace scenarios with other employees or ask questions and get immediate answers from a trainer. Even so, online training is increasingly popular in the business world.
Blended – If you desire the benefits of both classroom training and online delivery, and you can't choose between the two, blended delivery may be the solution for your workforce. It provides the best of both worlds while diminishing the drawbacks of both.
Blended delivery includes sessions with an in-person trainer. Participants have the opportunity to interact with each other and their leader, actively asking questions and sharing personal experiences. They are also able to complete coursework online instead of in a workbook. Their classroom professional development is supplemented with online material, and participants are able to learn at their own pace as well as engage in the program when it's most convenient for them.
Regardless of what delivery method you choose, it's important to consider each one. Think about the positives and negatives in selecting the best fit for your team. This is vital to ensuring a real return on your investment in management training.
Interested in seeing for yourself whether online management training is the right fit for your team? Test a Vital Learning virtual leadership course now.