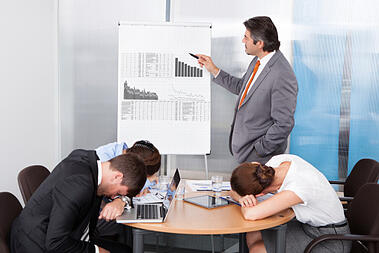 Managers are on the front line of your business. They deal with the day-to-day operations of your company and directly impact the productivity of your employees. You want a team of effective leaders running your organization, and providing them with proper management training is the key to achieving that.
What's your current management development program? A set of old VHS tapes? Maybe you have a new system, but you're not seeing results. If your managers aren't excelling, look to your management training program to diagnose the problem.
First, let's look at some common ways training courses for supervisors and managers fall short.
Trainees leave with bits of knowledge but no real-world application.

The training program is too broad, with little pertinence to a specific job.

The program is too easy and participants aren't challenged.

The program is too high-level, making it hard for participants to benefit.

There is no follow-up training or chance to touch base and evaluate the success of the program.

It's simply uninteresting – outdated videos, not interactive, etc.
Does any of that sound familiar? If so, it's time to invest in a new process. When you're researching management training programs, you'll likely notice that there are plenty to choose from. Assess programs based on the skills you're trying to improve internally. There are four skills worth strengthening in every company, so start your evaluation there.
Leadership
Are your managers able to run a well-oiled, motivated team with little supervision? Are they producing the best results from their team? Leadership training courses for supervisors and managers should likely be your first focus. If your managers don't know how to lead, they're not able to perform their job function. Look for a leadership skills training program that shows managers how to garner team member participation and loyalty, while also enhancing their own self-esteem.
Communication
So many problems in the workplace are directly linked to poor communication. Think about how to create a culture of transparency and communication within your company. That starts with communication performance training. Find a communication program that leaves your managers with the skills they need to talk with clarity and professionalism. And remember that modern communication isn't just verbal. Since email is so prevalent, be sure to invest in a program that also highlights digital communication.
Delegation
Delegation isn't always easy, is it? Often we think a task is better performed if we do it ourselves. But a good leader recognizes when it's time to hand over the reins. If you think your managers are spread too thin, it's likely they're in need of a delegation management training program. Delegation training is important because it teaches managers how to use others' skills, increase productivity and involve the entire team.
Conflict Resolution
Conflict is inevitable in any workplace. A good manager knows how to deal with conflict the right way. Conflict resolution training provides managers with the ability to recognize conflict and address it immediately. When facing "he said, she said" scenarios, you need managers equipped to cut through the gossip and get straight to the source of the problem. That's why it's important to find a program that teaches successful conflict resolution strategies and communication tactics.
An investment in the right training courses for supervisors and managers is invaluable for your company. You'll boost employee retention, increase productivity and make your managers feel valued in the process. Look for the right management training program today.
Interested in finding the right management training program for your company? Contact Vital Learning for a variety of courses and more information on specific programs to meet your training needs.