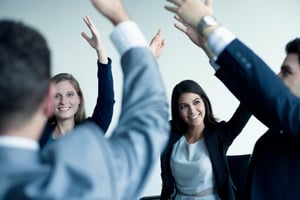 Workplace training equips businesses to build a powerhouse of employees with exceptional talents and skill sets. But, not every training program gives participants the tools they need.
You've got to stay at the forefront of innovation to ensure that your employee training program teaches skills that are both relevant and effective. Here are techniques you should use to promote a truly leading-edge training program.
Promote Diversity And Conflict Resolution
If you're hiring employees from a variety of backgrounds, chances are they won't see eye to eye on every issue. With diversity comes disagreement, but that doesn't mean you have to sit by and allow arguments to play out.
Given the rising trend in workplace diversity, many companies are turning to new conflict resolution techniques. Conflicts are bound to happen, so your employee training programs should teach leaders how to resolve them.
Be sure your managers are skilled in the following conflict resolution areas:
Intervening before a conflict becomes out of control
Listening closely to employee concerns
Running a meeting between the employees involved in a conflict
Being impartial during conflict resolution
Motivating employees to find a common solution
Increase Revenue Through Sales Skills
Workplace training is no longer just about teaching employees how to use new software or fill out timesheets. With the right training program, your teams learn how to boost sales with better performance.
Employees should be proficient in customer-focused communication skills and sales call preparation. If they're going to be effective, they must be able to identify customer needs and offer solutions.
When you introduce a sales training program, your employees get the chance to take part in a larger discussion. Encourage them to be innovative in finding solutions to achieve increased sales, and give them the skills they need to be successful, including:
Being an effective listener
Identifying the customer's objective
Building consensus with customers
Giving sales recommendations
Finding opportunities to make additional sales
Offer A Blend Of Learning Options
Part of implementing a powerful employee training program is getting current with the times. Employees don't want to sit through a long, boring lecture several times a year. They want to be engaged.
Fortunately, there are many options for delivering an effective professional development training program that captures employees' attention and accommodates their various schedules. Consider the following modes of teaching and how they might suit your workplace:
On-site classroom training benefits employees by:
Clarifying information with in-person discussions
Engaging employees through questions
Allowing the facilitator to tailor lessons based on participation
Online classes work well for employees who:
Have a demanding work schedule
Need to plan around time they spend with family
Work remotely or are unable to commute to the office every day
Mobile training resources are useful when employees have time:
During a commute via bus or train
While waiting for an appointment
On business trips where a computer is not accessible
These three learning options all have their own benefits, so you must tailor your workplace training to your company's unique needs. What works for another organization may not be best for yours.
Or, create a customized blend that fulfills your needs more completely. For instance, you may have employees attend the classroom training and then give them the option to finish assignments online or via their mobile device.
Take charge of your training program and deliver the most effective tools to give your workforce the boost it needs.
Ready to learn how employee training programs cultivate effective leaders? Discover strategic approaches to succession planning that prepare tomorrow's leaders.