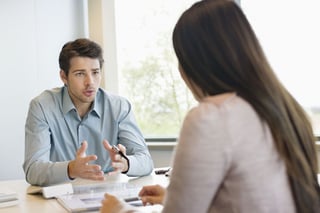 Why is investing in management training important for an organization? There's more to it than a simple answer of professional development, talent management or knowledge acquisition. Having effective leaders and managers is one of the most critical components to long-term organizational success. Good or bad managers can affect employee retention, engagement, quality of service and, ultimately, revenue.
Most people agree that developing employees is important, but proving the value of these initiatives to executives can be challenging. One of the most common objections to leadership development is "aren't all of these skills just inherent and intuitive?" Or "can't people just learn these skills on the job?" While many effective management skills are intuitive and simple, the execution of these skills can be quite difficult. And learning leadership skills without structure and guidance is often a recipe for bad habits. Management training takes time, resources and money, so why should your boss invest in it? Stated another way, what are the benefits of developing practical skills among your company's managers?
What are the Benefits of Management Training?
Productivity
Engagement
Quality
Retention
Revenue
One main advantage of motivating and educating managers is an increase in overall employee efficiency and productivity. As a manager's confidence increases, so does their ability to implement company strategies, moderate internal conflicts and coach/encourage those underneath them. According to a study conducted by Evolv (a data provider that uses analytics to study employee retention), an employee's productivity is a direct result of the training, development and encouragement they receive from their manager, and how productive their manager is as a worker.
Training also directly impacts employee engagement and company morale. Effective managers know how to openly communicate, coach, set S.M.A.R.T. goals, and provide quality feedback to their employees. Having a good manager motivates the team to come to work every day and enhances the overall company morale. When morale is high and employees feel appreciated, the quality of their work improves.
According to eLearning Industry, 75% of people voluntarily leaving their jobs quit because of their direct supervisor! By investing in leadership training, a company can better retain employees and reduce costly recruitment expenses.
What Should Management Training Cover?
Many companies invest in leadership development and only provide the high-level and theoretical leadership topics, while neglecting practical day-to-day management skills. Although high-level leadership principles are important, it's also critical to learn the everyday skills and situation-specific skills needed to be an effective manager. Having a framework helps managers to continually execute and grow the right way.
First, it's smart to have a good foundation. Vital Learning's Leadership Essential Series starts with the Essential Skills of Leadership and the Essential Skills of Communicating. These two courses provide the fundamental skills of leadership and commination that good managers must use every day, like how to maintain or enhance team member self-esteem, encourage participation, lead effective meetings, and craft clear and concise messages.
After establishing the foundation, managers should learn to handle the situations they will inevitably face in their role. Commonly, this includes topics like coaching, delegating, providing feedback, resolving conflict, developing goals, and managing complaints.
How Should Training Solutions Be Delivered?
Every manager is unique. Every company is unique. That's why effective solutions should be designed to adapt to you. You'll need to decide what delivery method is best for your company and present this reasoning to your boss. Typically, there are classroom, online, blended (a mix of classroom and online) and mobile delivery options. To help you determine which method is the best fit, check out our "Online vs. Classroom: Which is Best for Your Team?" article.
Learning practical management skills is all about continual practice. Vital Learning's classroom training solutions focus on learning by doing and interactive exercises. Participants learn concepts and skills by experiencing them, not being told about them. Short scenarios with high-definition video are used throughout the class to develop a comfort level applying skills in different situations. The heart of the class is the skill practice section, where participants pair into groups and work through full team member discussions.
Continual practice should also be the emphasis with online learning. Vital Learning's solutions are designed so participants receive the same benefits as classroom learners, but with more flexibility. For online delivery, it's critical that your managers can fit the training into their busy schedules. Having mobile optimized courses enables learners to take courses on their phone, tablet, laptop or desktop. Online courses that can be delivered in "bite sized" modules by topic also allows learners to take sections at their convenience and better fit the training into their day.
You should consider whether the learning solution fits well with your audience. Does it have the flexibility and convenience they need? Does it address their needs appropriately? Having an excellent understanding of your managers and the best delivery solution for your company can help you present a compelling recommendation to your boss.
What Happens After the Initial Training is Over?
It takes time to develop skills and actually use them on the job. Likewise, it takes time and practice to become an exceptional leader. Having follow up practice opportunities, as well as reinforcement exercises and resources is essential. With continual practice, managers can develop their comfort level and confidence over time. As the fundamental skills of good management become natural and intuitive, that's when business impact occurs.
Vital Learning provides the "Vital Boost" App – a reinforcement mobile app that gives additional practice scenarios to participants over time with follow-up skill practice sessions. We also have on-the-job worksheets and job aids to help as leaders face actual situations, and lifetime access to our online resources.
How Do I Demonstrate the Impact of Training?
The two top concerns of executives and senior leaders are the business impact of training and return on investment. Although these are top-of-mind for executives, few HR and training professionals present impact or ROI when pitching a potential learning solution to their boss.
Gathering and presenting this information can be time consuming, but can also be critical in getting your boss' approval for a training initiative. First, you'll need to get an understanding of your company's top priorities. Which of these top priorities ultimately relate to the quality of the managers and how their teams execute? Since managers are often the critical piece in execution, you'll find that many initiatives often require good managers to be successful.
The difficult part is determining which metrics map to these priorities, how to measure these metrics, and how to track the metrics to the training itself. There are often many factors at play in a given measurement (training being just one of multiple variables) so you'll need to isolate the affects of training the best you can. Doing this will be the topic of future blog articles, so stay tuned…
Conclusion
Managers having the skills they need is crucial to the long-term success of your organization. Vital Learning can help (and make you look great in presenting to your boss!) with our practical skills development solutions designed for today's leaders. For more information, check out our process, which highlights our proven method for ensuring participants use their skills back on the job and organizations see impact.